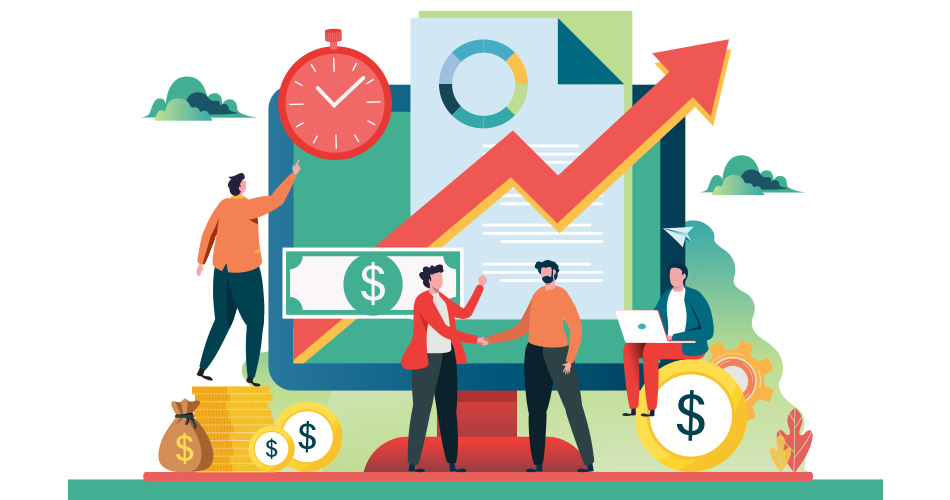 Achieving Accurate Cash Flow Forecast for Better Financial Control
Accurate, detailed and diligently prepared cash flow forecasting is one of the most important responsibilities for CFOs. Poor cash flow forecasting can have severe consequences to the ROI and financial health of an organization. It can lead to poor investment decisions and borrowing more than required, or keeping the funds idle. All of these can have serious consequences to health and outcomes of the organization.
Concept of Cash Flow Forecasting
Cash flow forecasting method is employed by businesses to gauge the future availability of cash. Companies make use of mainly 2 ways to perform cash forecasting: Direct or Indirect. Direct cash forecasting is focused on short-term forecasting of cash flows, while indirect cash forecasting points out the long-term cash estimation at specific points in time.
In large enterprises, the financial management team or the head office treasury oversees cash forecasting process. This process is dependent on large volumes of data from both people and systems.
Components of Cash Flow Forecast
Forecasted costs, forecasted sales and estimated time of payments are the three factors taken into consideration for determining cash flow forecast. Cash flow forecasts needs to be updated all the time to keep it relevant and useful.
Forecasted costs of running a business can be easily determined with the help of income that you expect to generate.
Ideally, sales forecasts are done through recording past few years' sales data. In case of any discrepancy in patterns on account of seasonal effect or sales promotions or any other market changes or change in business environment or nature of the competitors, then take these into consideration or in calculations for both the past and the future.
There is often a delay in most payments cycle and this need to be considered while estimating payments expectations from your projected sales figures.
Why is Cash Flow Forecasting Important?
Inaccurate cash forecasting costs the organization money, can lead to missed investment opportunities and impacts shareholder value. Businesses can leverage cash flow forecasting for the following benefits:
Better utilization of additional cash for higher-value investments and use cases.
Higher certainty of projected cash balances.
Better financial control and liquidity management.
Maximizing interest earnings through longer investments.
Reduction of cost of funds, interests and debt.
Earning yield from early supplier payments.
For improved liquidity and long-term investment planning.
Investing in new organizational projects.
More effective hedging programs and improved global cash mobility.
CEOs and CFOs should have adequate information regarding visibility of forecast cash as well as for the future investment opportunities for business expansion.
Ways to Achieve Effective Cash Flow Forecasting
1. Automation of Data Gathering
Effective cash flow forecasting depends on the availability of data from various sources across the enterprise. A system needs to be in place which will automate the process of accumulating the data from disparate systems and provides a unified view for better visibility and accuracy.
2. Keeping Track of Inflows and Outflows
Understanding how much money you are bringing and its source over a particular time-frame, will help you get a snapshot of your company's financial position with respect to cash inflows and outflows. Be it sales data or any changes in the terms and conditions of the suppliers' contract, should be kept into account to make changes accordingly in the cash inflow. Keep track of both the fixed and variable costs while forecasting for outflows. A system that automates the task of tracking inflows and outflows will minimize errors and manual effort needed for this task.
3. AI and ML for Data Analysis and Projections
Accurate data is the solid foundation for accurate predictions. Based on accurate data gathered through an automated system, leverage the power of Artificial intelligence (AI) and Machine learning (ML) capabilities for data analysis and cash flow projections. This advanced technology provides more accurate forecasts with a high level of granularity.
4. Be Prepared for the Unexpected
CFOs struggle with maintaining consistency in foreign cash flows due to fluctuations in global currencies. With sudden and unhedged effect of currencies, companies can incur earnings per share losses.
It is always a good habit to account for any sudden changes in the market status, to be better equipped during a future crisis situation during cash flow forecasts. Being visionary in the approach can help you adapt quickly with changing business scenario.
5. Ongoing Adaptation
Once a cash flow forecast is done, it's not the end of the job. It's just the beginning. Continuous updating while keeping up with the trends or any other unexpected changes is essential for a successful forecast. Results need to be monitored regularly to tie the loose ends and keep the process fresh with relevant information.
To achieve accurate projections, look for opportunities of improvements and fine-tune the process accordingly for better financial control and visibility.
Conclusion
Although, cash flow forecasting is quite laborious and data-intensive, it is a very critical process. It not only helps you with projected revenue expectation but also future investment capacity. Knowing future cash flow helps utilize cash for higher-value activities.
If you're looking for a solution to cash flow forecasting, V-Solve can help you. Our next-gen, cloud-based solution T-solve, provides powerful cash and liquidity functionality, including cash flow forecasting capabilities. Our experienced and dedicated team of experts can aid your organization in treasury-related tasks such as determining cash flow projections. Please contact us to learn more and we would be glad to understand your business challenges and help you overcome them.